The Chilean social enterprise and SPBF Green Technology Startup contributor – Algramo – has received backing from the prestigious MIT Solve mentorship programme for providing an innovative solution for cutting single-use packaging and tackling urban poverty.
Taking part in the 'Circular Economy' challenge category, to which more than 300 innovators applied, Algramo captured the interests of the MIT Solve panel of judges, who selected them as a 'Solver' last month along with seven other innovative startups competing in the same category. As a Solver, Algramo received a USD10k grant and was awarded the AI Innovations Prize of USD50k to develop AI into their distribution system.
Algramo dispenses household products 'by the gram' (the direct translation of the company's name) to help tackle urban poverty in Santiago and reduce packaging waste, particularly plastic which is often difficult to recycle and litters the environment.
As a contributor to the Green Technology Startup Initiative, launched in early 2019 by the Science Policy Business Forum, Algramo is part of a wider network of startup companies working on innovative solutions for the environment. As an accelerator and incubator the initiative examines the enabling policies and actions required to use such innovation to guide the world towards a greener and more sustainable way of living.
Since they started in 2013, Algramo's innovative distribution system replaces single-use plastic with reusable packaging, Algramo has made their way into 2,000 family owned stores across the city dispensing food, personal hygiene products, household cleaning products, pet food and other everyday essentials.
Reducing packaging waste, in the way Algramo is pioneering is not only good for the environment and the urban poor who previously had to pay high prices for small quantities of individually wrapped goods. There is also a lucrative business opportunity waiting to be seized.
Research conducted by the Ellen-MacArthur Foundation suggests Algramo is tapping into a USD 10+ billion market opportunity by replacing just 20% single-use packaging with a reusable alternative.
"Becoming a Solver will expand our global network of experts who can help Algramo pull together stakeholders across the plastic value chain, so we can work with key stakeholders to work towards replacing 20% of single-use packaging with reusable packaging solutions."

– Brian Bauer, Algramo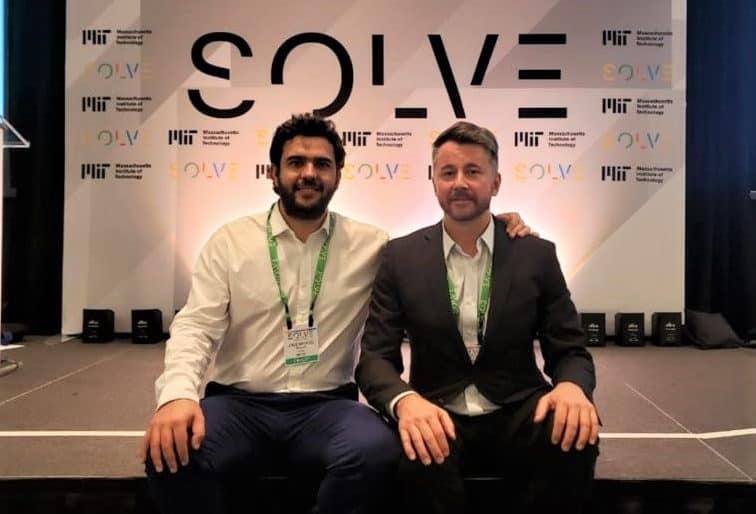 The idea of moving towards a global Circular Economy aims to reduce the over 2 billion tons of solid waste—roughly five times the total weight of all people on the planet – the world currently produces every year based on our existing linear supply chain economy.
"Algramo is really honoured and excited to have won USD50k from Solve, via the McGovern Foundation and Schmidt Futures. This funding will enable us to integrate AI into its supply chain so we can use AI to analyize big data sets to learn how to better optimize product offerings and how to reduce product waste."

– Brian Bauer, Algramo
MIT Solve is an initiative of the Massachusetts Institute of Technology (MIT) that advances lasting solutions from tech entrepreneurs to address the world's most pressing problems. Solve issues four Global Challenges each year to find the most promising Solver class who will drive transformational change. Solve then deploys its global community of private, public, and nonprofit leaders to form the partnerships these Solver teams need to scale their impact.
Relevant links
UN-SPBF Green Technology Startup Initiative
Top picture: Jiaqian AirplaneFan